________
26/09/2021
Krupuk381 - Tapioka Tape


English


First release from breakbeat/noise entity KRUPUK381 (aka Loft Party aka Manuel Klotz). Sharp feedbacks, obscure samples and destroyed breaks thrown in a lunatic distortion hell. Heavy influenced by early tracker-artists like ec8or, shizuo, hecate or Christoph de Babalon, he is building a disharmonic rhythm wall and demolish it withfeedback-noise. This tape isn't trying to be a mirror of his socialization, it's a homage and a unique vision for the spirit of mixing different styles to a unpleasant chant.
German

Das erste Release von der Breakbeat/Noise-Entität KRUPUK381 (aka Loft Party aka Manuel Klotz). Messerscharfe Feedbacks, obskure Samples und zerstörte Breaks werden durch eine verstörende Distortion-Hölle geprügelt. Beeinflusst von frühen Tracker-Artists wie z.B.: ec8or, shizuo, hecate oder Christoph de Babalon baut der Krabbensnack381 eine disharmonische Rhythmus-Wand auf um sie im gleichen Moment mit kaputten Feedback-Krach einzureißen. Das Tapioka Tape versucht jedoch nicht Spiegel seiner Sozialisation zu sein, viel mehr möchte es Hommage aber auch eigenständige Vertonung dessen sein, was für den Künstler den Geist von Harshnoise und Breaks ausmacht. NO GODS NO MASTERING Limited Edition of only 6 Cassetes!
________
04/03/2021
Loft Party - Fatalist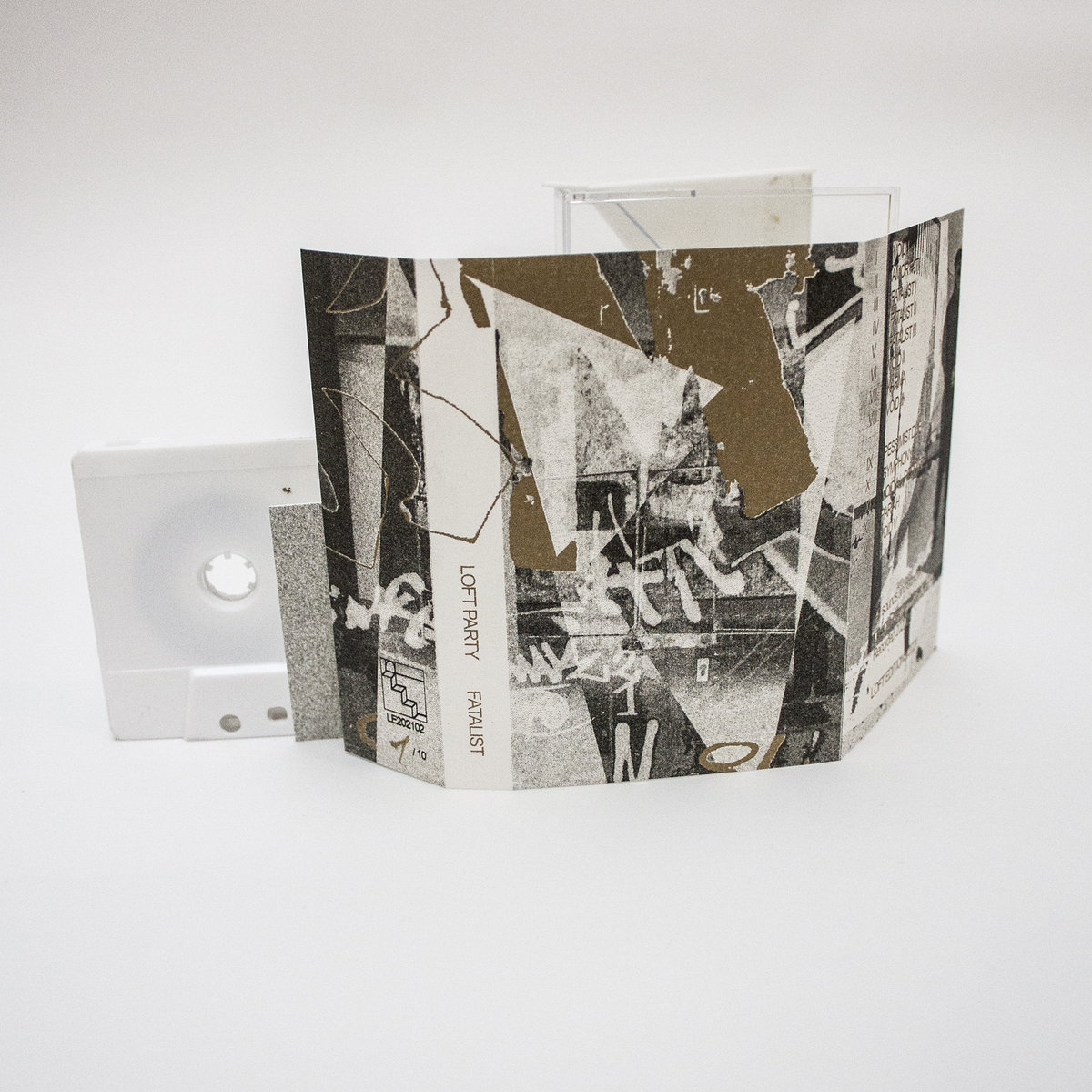 English

Loft Party's new sound sorcery invites you to reflect alienating living in a modern post-industrial society. The artist worships his well-known noise sound walls and experiments with filthy beat samples, mixed with urban field recordings. It's a poetry for the lovers of fatalist living, but also a request to questioning the own catatonic condition.

The recordings are done mid 2020-now and reflects a path of searching to building sound collages with different sources and conditions. Loft Party, aka Berlin based sound artists Manuel Klotz, used synths and samples to conjure a cathartic sound wall for lovers of modern experimental sounds. Heavy influenced by early "Digital Hardcore Recordings" records, noise acts like John Wiese, Aaron Dilloway or early industrial music such Maurizio Bianchi, Throbbing Gristle, Swanns.

Enjoy the trip, accept the bliss… Amor Fati!
German

In seiner neuen Klangcollage beschäftigt sich Loft Party mit fatalistischen Reflexionen einer Post-Industriellen Gesellschaft. Den Bedingungen ergeben schreiten wir durch die Straßen und lassen uns von katharischen Eindrücken in einen katatonischen Zustand versetzen, die Kakophonie des modernen Lebens.

Loft Party, der Projektname des Klangkünstlers Manuel Klotz, entwickelt einen Dialog zwischen verzerrten elektronischen Versatzstücken und entrückten rhythmischen Klangclustern. Die Idee lakonische Rhythmusmuster mit prätentiösen Noise-Eskapaden zu einer Klangcollage zu mischen beschäftigt ihn schon lange und findet nun eine erste Formulierung.

Roh, ungefiltert und impulsiv setzen sich die Ebenen zusammen und fordern auf, die Sichtweise auf das resignierte Leben moderner Entfremdung zu folgen.

Die Aufnahmen sind nicht gemastert und bilden die direkte Formulierung des Aufnahmeprozesses wieder. So heftig die Syntax der Noise-Improvisation gestaltet wird, kann man in wenigen Passagen auch Orte der Ruhe finden. Sie lassen Zeit und Raum, eine eigene Nische im Klanglabyrinth zu finden und laden ein, die Wunden fatalistischen Wanderns zu verpflegen - in dem Sinne, Amor Fati!
______
04/03/2021
Yasuyuki Uesugi - Untitled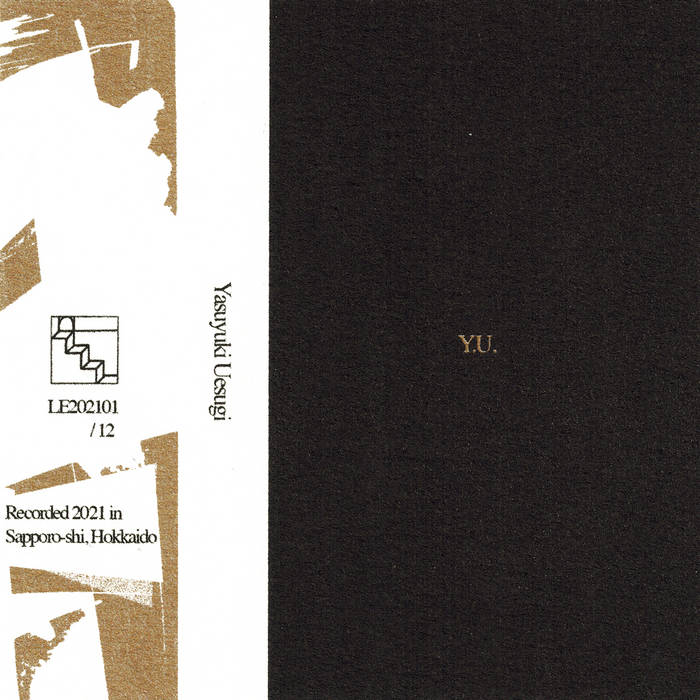 A new sound source by japanse artist Yasyuki Uesugi...klick

Repetive drones and wall of noise summoning, made by handmade synths from JMT Synths.
________
04/12/2020
CHIGURH - BEATTAPE #01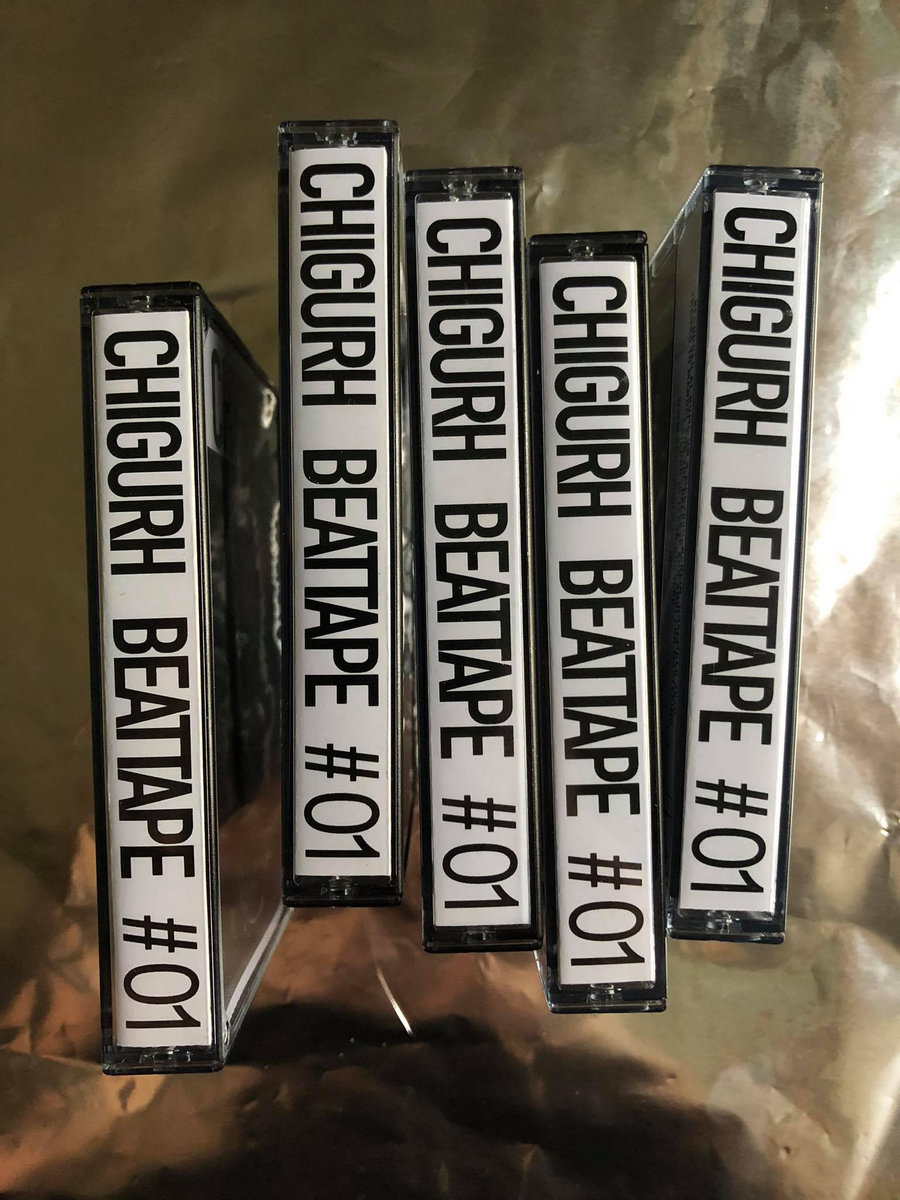 Engl.

Enjoy ye "boom-bap-experimental-urban-soundtrack-fetish" - naughty CHIGURH (the artist formerly known as WEHE or LAACHE) dropped his first physical piece into the aether.

The Berlin-Neukölln based artist celebrates noisy hip hop beat-science out of his doomed cave. Its heavy influenced by oldschool beatmaking, only using a MPC2000, vinyl sampling or own synth-based soundscapes.

Think of horrorcore, noise, drone, early "WordSound recordings", "dälek" or just smooth 90ies boom bap stuff.

If you're into crossing genres and the deep shit, you have to check this short but precious beat summoning!

Cherish the crates!

Noises, Mix & Artwork - Jakob Rudolph
Master - Andi

Ger.


Salut! Voller hochachtung möchte ich bekanntgeben dass wir das erste physikalische Klangerzeugnis von CHIGURH (auch bekannt als LAACHE und WEHE) über Loft Editions bestaunen dürfen.

Die maskierte Echsenentität zelebriert eine "boom-bap-90ies-drone-noise-experimental-beat" Beschwörung, dessen deepness bis zum Mariannengraben reicht.
Beeinflusst vom klassischen cut and produce, bedient sich CHIGURH ausschließlich, seiner MPC2000, Vinyl-Samples, eigene Synthwände und Filmzitaten.
Raffiniert arrangiert er bissige Klangcollagen die mit bassiger Instrumentierung changiert.

Die ein oder andere geneigte Person wird Einflüsse von u.A. WordSound, dälek, wu-tang, KRS-One bzw. 90ies HipHop zitiert wahrnehmen.
Aber Obacht, seine Doppelzüngigkeit wird durchaus auch von dronigen Passagen ala SUNN0))), Godflesh, generell Projekte von Justin Broadrick usw. untermalt.
Eine echte Ehrenechse halt.

Ein illustres Potpourri an deepen Understatement! Santè!

More infos and sounds on Bandcamp -> CLICK

________
04/12/2020
Manuel Klotz & Peter Schubert - Diptychon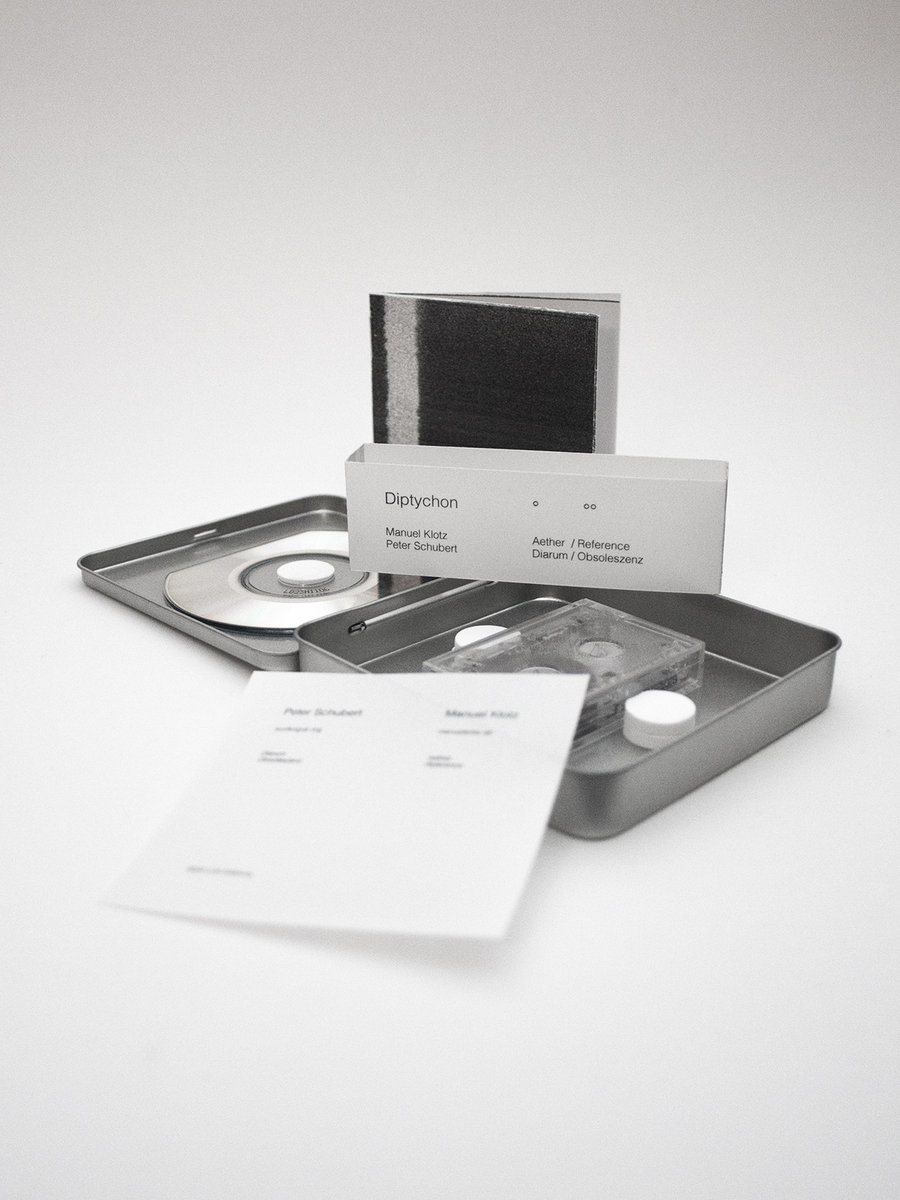 Ger.

Reduction. Repeat. Dialogue.

Small dialogue between two mediums and two artists.

Physisch, bei der Klangerzeugung, reduziert auf alte Diktiergeräte, mit Microkassetten, recherchieren die zwei Künstler und halten einen klanglichen Diskurs, dessen Narrativ durch Wechselbeziehungen, des ausgehenden Mediums, vorrangeht.

Repetitive Störgeräusche kommunizieren mit gefunden Klangmaterial, welches sich aus den auditiven Klangtagebüchern der Künstler nährt.

Es geht den Künstlern um den Dialog zwischen verschiedenen Medien und ihrer spezifischen Sprache, welche sich in Fehlern und Störungen wiedergibt. Die Verlautbarungen von Microkassetten, CD-Abspielgeräten und deren physikalische Peripherie, werden zu Klangcollagen zusammengesetzt und einen neuen Kontext zugeordnet. Rückkoppelungen von/mit manipulierten elektronischen Geräten oszillieren zwischen Erinnerungsstücken, zersetzen sich in verschiedene Klang-Cluster und finden sich in einen kommunikativen Klang-Äther wieder.

Die Rezitation findet sich in Mini-CD und Microkassette, als Trägermedien, wieder. Beide obsolete Medien finden sich in einem labilen Nexus, der von Endlichkeit und technischer Reduktion erzählt.

Zwei Stücke pro Medium. Zwei Künstler. Reduktion. Wiederholung. Dialog.



released December 3, 2020

More infos and sounds on Bandcamp -> CLICK

__________
02/10/2020
Benedikt Flückiger - Everything Else

Ger./Engl.


Alles andere - das was nicht die eigenen Erinnerungen trägt, das Fremde und jenes was uns nicht berührt. Alles andere kann aber auch die Ergänzung unserer Erfahrungen sein. Alles was noch dazu gehört, um ein Puzzle zu einem Bild zu vervollständigen.

Dazwischen changiert Benedikt Flückiger, er bedient sich aus verschiedensten Klang-Clustern und webt daraus einen dichten elektroakustischen Resonanznebel. Die Grundlage wird vom experimentalen Gebrauch elektronischer Musikalien sowie Gegenständen erzeugt. Es ist ein Dröhnen, Knatschen, Rückkoppeln, Ziehen, Dehnen, Drücken und Quälen von Klangerzeugnissen, die zu einer Collage zusammengebastelt werden.

Ergänzt wird dieses Fundament von manipulierten Samples und Fieldrecordings, begleitet von einem Hauch Nostalgie. Genau da setzt das Konzept des "Anderen" und "Fremden" ein, wir verquicken unsere (vermeintlichen) Erinnerungen mit Erwartungen und gleichen mit der Realität ab. Es ist die gestohlene Zukunft die akustisch formuliert wird und in der wir uns wehmütig wälzen. Das Puzzle von Bekanntem, Unbekanntem, bekannten Unbekanntem sowie vermeintlich Bekanntem setzt sich zusammen.

In mehr als einer Stunde rezipieren wir einen fassettenreichen Nexus, fern vom typischen Noise und Dronekitsch. Herrlich undogmatisch begleitet man die Spiel- und Entdeckungsfreude von Flückiger. Abseits dieses Entdeckungsspektakels, schneidet man die Klangwelten anderer Künstler. Immer wieder ist man geneigt sich an Kevin Drumm, Marja Ahti, Aaron Dilloway, oder die Projekte vom Caretaker (V/Vm und co) zu erinnern.
Dazu trägt nicht nur der Sound bei, sondern auch die Attitüde, dass Klang und Spiel, jenes Werkzeug bereits ist, um Bilder zu schaffen.

Everything Else completes B.Flückingers diverse sound-aesthetics. You will have your lovely drones, noises and feedbacks. But also, haunted samples, summoned by nostalgia and blissfull distortion. This record wins, not because of heaviness, filth and weirdness - it will win in a playful and cherish way of sound-building.

Take a look for this more than an hour trip into playful, undogmatic and melancholic experimental sound-worshipping.

For fans of musique concrete, hauntology and noise (à la Dilloway, Drumm, Ahti, early Tim Hecker etc…).



Cassette is strictly limited to only 9 copies.
Each song is recorded by the artist and roughly mastered. 

released October 2, 2020

Sounds, Art, Recording - Benedikt Flückiger
Print, Art - Manuel Klotz

Check on Bandcamp -> CLICK


___________
06/08/2020
Manuel Klotz -Hoax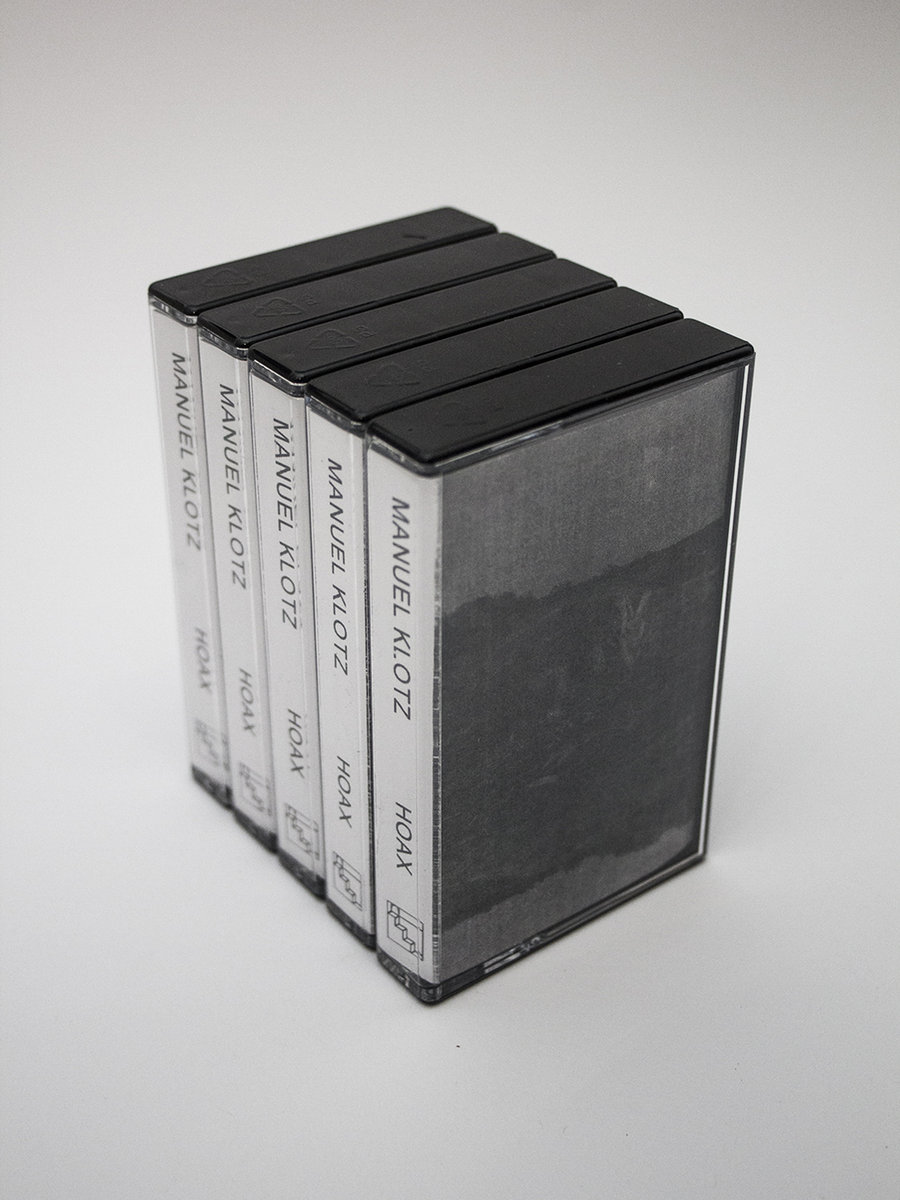 Ger.


*Short english description below*

Die Schönower Heide ist ein, durch verschiedene Einwirkungen der Zerstörung, geprägtes Naturschutzgebiet am Rande Berlins.

Das Gebiet wurde Jahrzehntelang, von verschiedenen Streitkräften, als Truppenübungsplatz genutzt.
Durch die Verwüstung durch Panzer und andere Gerätschaft, sowie Flächenbränden verlorener Munition, wurde eine einzigartige Heidelandschaft geschaffen. Entstanden aus Verwüstung, Verwilderung und den Liegenschaften menschlicher Zerstörung, bietet dieser (Un-)Ort ein einzigartiges geschichtliches und ökologisches Narrativ.

Angelehnt an W. G. Sebalds "Die Ringe des Saturn", habe ich mich auf ein hauntologische Dèrive durch das Gebiet begeben und meine Eindrücke in Form von Fotografien festgehalten. Artefakte aus der gewaltgeformten Vergangenheit, überschneiden sich mit Bildern nostalgischer Naturdokumentation und bilden einen Duktus aus Idylle und erloschener Gewalt.

Auf Grundlage des gesammelten Materials und subjektiven Eindrucken, habe ich Soundcollagen gestaltet. Der Klang wird durch ständige Feedbacks und elektroakustischer Manipulation gebildet und soll als psychoaktiver Baustein meines Eindruckes fungieren.

Das Zine und die Klangcollagen/Kassette stehen eigenständig da, bilden aber in Zusammenhang eine wechselseitige Ergänzung.
_____________________________

A nostalgic and beautiful scenery, built by violent history. Follow my hauntological derive trough the "Schönower Heide", a nature reserve nearby Berlin, made by havoc and devastation.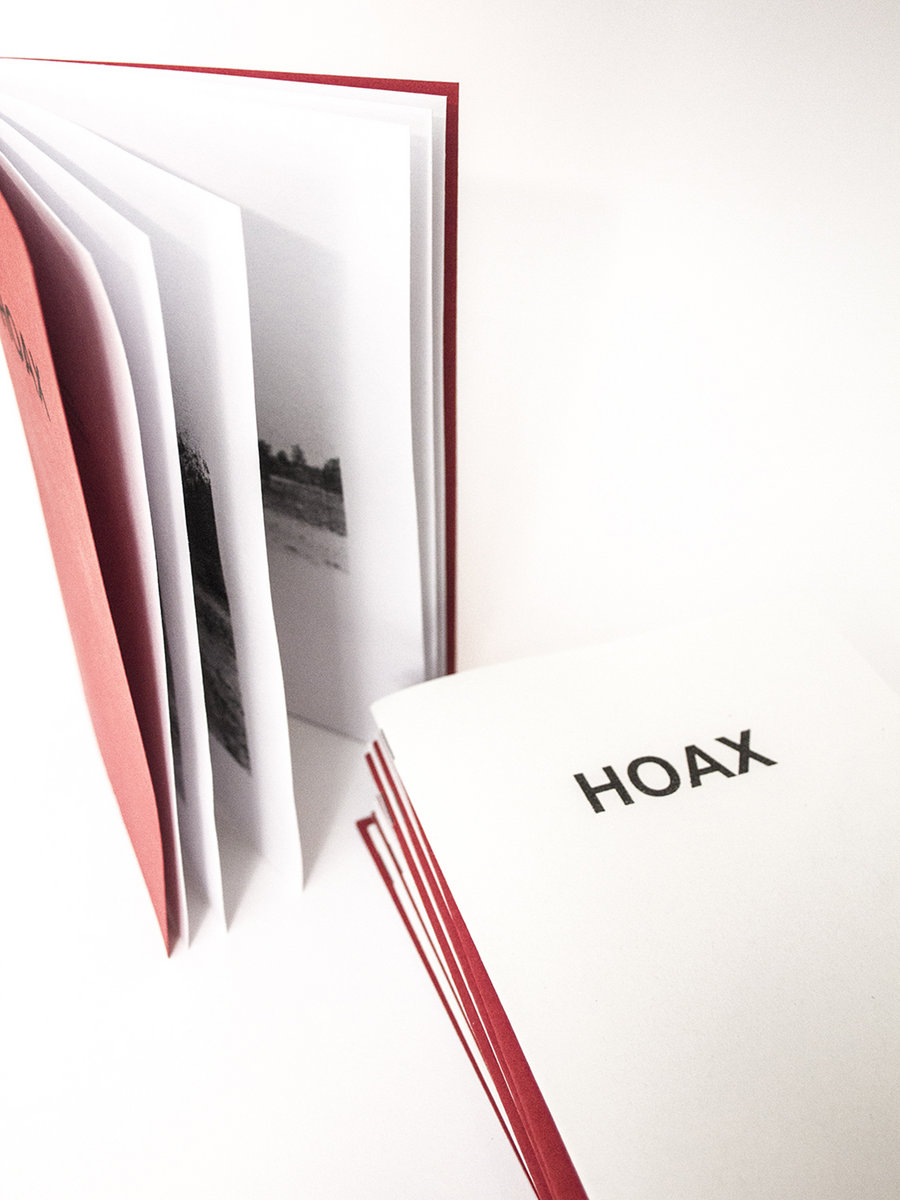 ___________
24/04/2020
Yasuyuki Uesugi / Loft Party - Split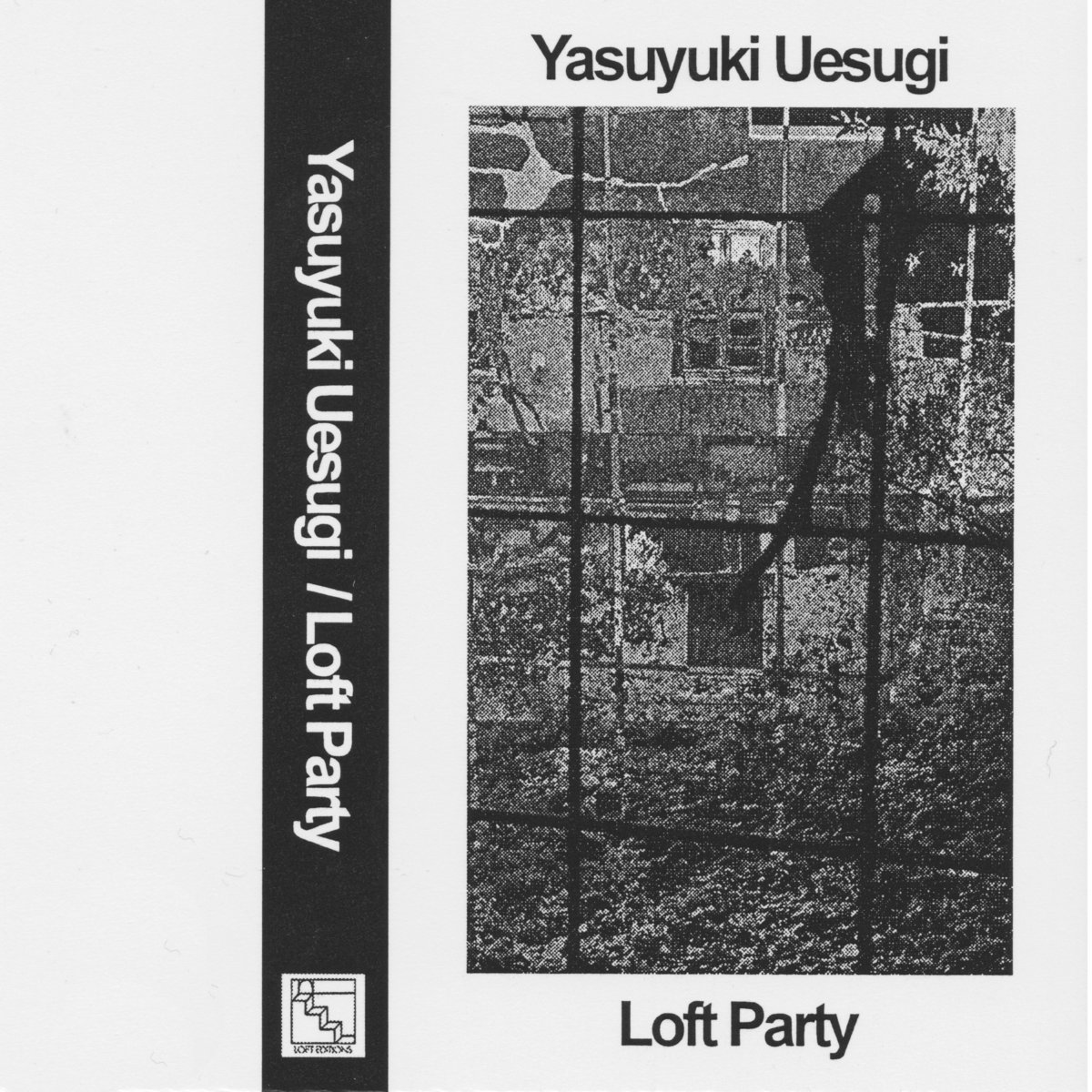 Engl.


Split release from the Japanese sound artist Yasuyuki Uesugi and German noise votary Loft Party. Repetitive drone vortexes from Y.Uesugi and harsh noisy power electronics by Loft Party. No cult, just pure negativity.

released April 24, 2020

Recorded in Sapporo and Berlin, 2019-2020.

Synths, Effects, Feedbacks, Voices.

Artwork - Manuel Klotz

Check on Bandcamp



___________
19/04/2020
Sicker Man & Loft Party - Cherish the Chants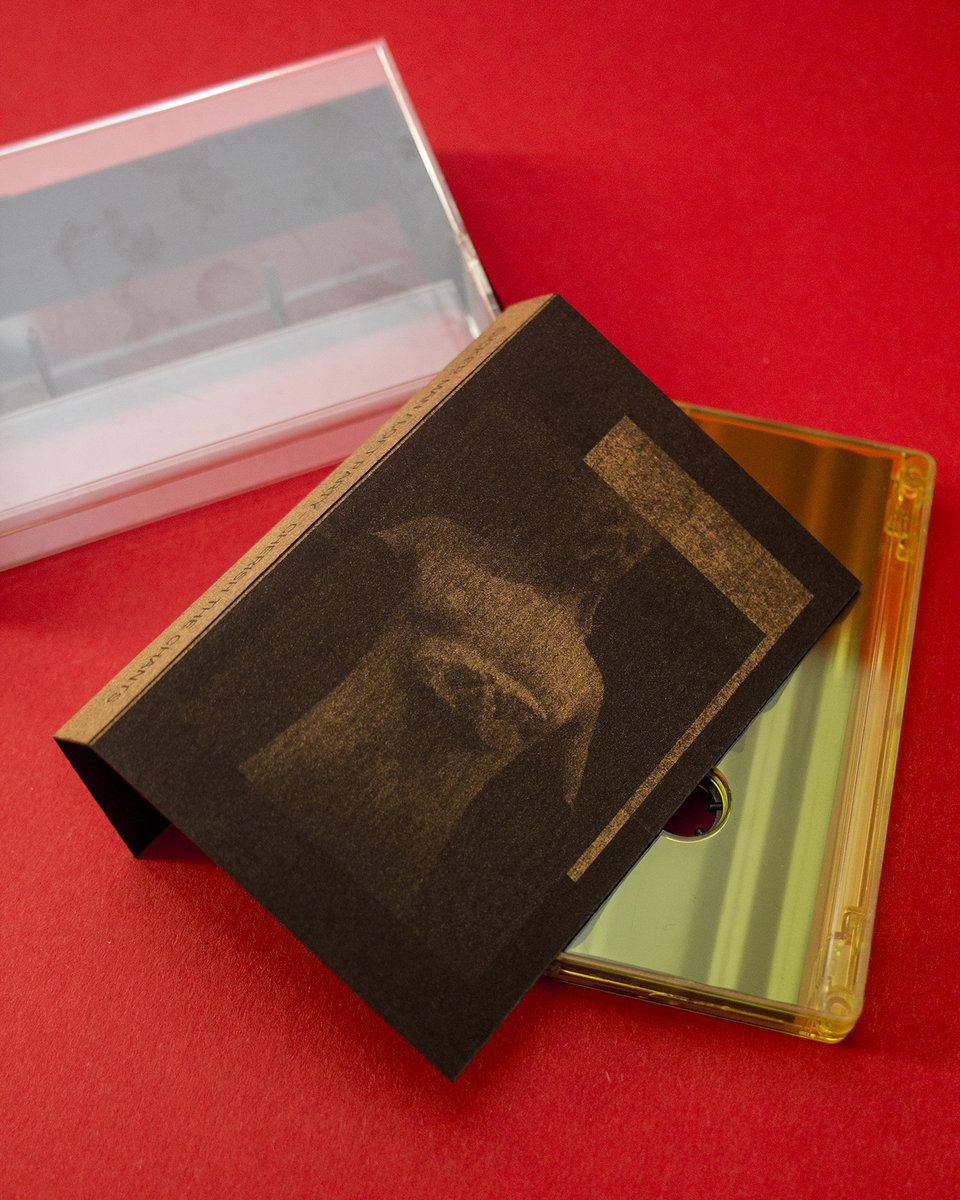 Engl.


Haunted drones, repetitive synth cascades, stranger voices and sounds from a far uncanny valley. This release is the first collaboration between the sound artists "Sicker Man" and "Loft Party". Both are preaching the drone from Berlin to the world. Influenced by artist like "Suicide", "Wolf Eyes", "Peter Brötzmann", "Sun Ra" or "Sunn" they worship these chants to fill the void with drone heaviness and obscure noises.

Limited cassette edition of 12.

Recorded autumn 2019 in Berlin.

released April 19, 2020

Sicker Man - Synth, Cello, Effects
Loft Party - Synth, Alto, Voice

T. Vethake - Mix, Recording
M. Klotz - Artwork, Cassette Mix

Check on Bandcamp

___________
22/03/2020

Loft Party - III: Irreversibel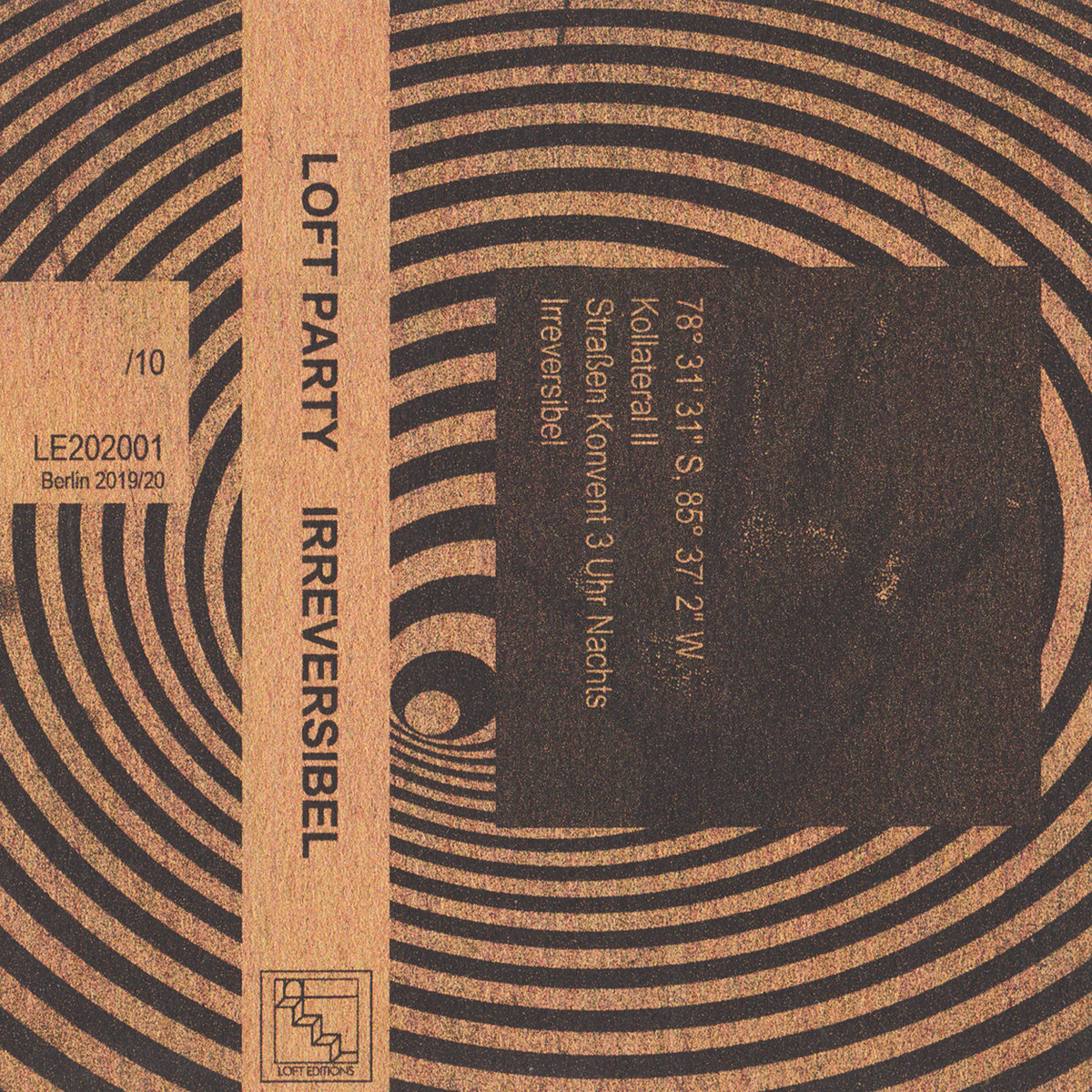 Engl.


Loft Party celebrates his third full-length "Irreversibel" with well-known harsh heaviness and took place back into the drone/feedback catharsis. Less noisy summoning, more tender ambient and roomy drones, supported by Samples and electrified instruments.

Recorded winter 2019/20 in Berlin.
10x limited c-40 cassettes available. Handmade, 2-color risoprints for slipcase and j-card.

Strictly:

DIY or DIE

NO GODS, NO MASTERING

released March 22, 2020

Manuel Klotz - Synths, Git, Alto, Voice, Effects, Fields, Mixing & Mastering

Artwork by Manuel Klotz
Risoprinted @ Drucken3000, Berlin
Cassettes from TAPE MUZIK

Check on Bandcamp







___________
29/03/2019


Loft Party - II: Cluster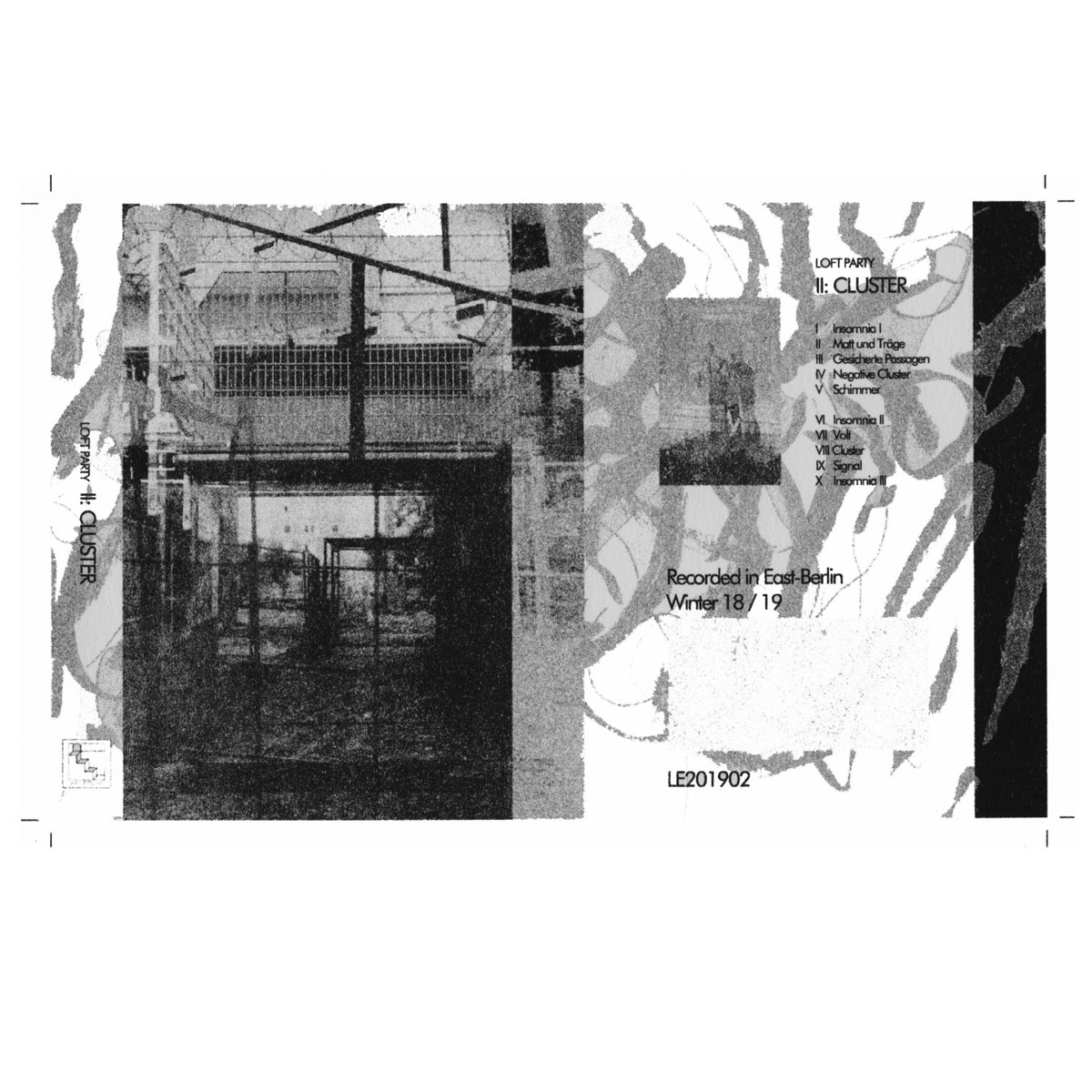 Engl.

"I want to confess as best I can, but my heart is void. The void is a mirror.
I see my face and feel loathing and horror. My indifference to man has shut me out.
I live now in a world of ghosts, a prisoner in my dreams." – The Seventh Seal 

Searching for abhorrence sounds and transcendental urban dérive.
Sleepwalking trough wasted human existence. Summoning repetitive sound patterns to preach the void of melody.
Recorded with analog synths and lo-fi equipment. 

Handmade numbered and riso printed slipcase. Brutal limited of 12 copies!
No-mastering skills and pure antipathy for high quality! DIY or DIE 

Check on Bandcamp

___________
29/01/2019
Loft Party / Jeans Beast - Split
Engl.

A collabo release by the noise/industrial artists Jeans Beast and Loft Party. 

Jeans Beast creates grotesque weirdo soundscapes that drones trough an electronic vortex of chaos. Followed by Loft Party`s lush power electronic vision of a doomed noise nexus. Both artists complete their work with selfdesigned cover and package.

Brutal limited art edition of 8 pieces.

released January 29, 2019 

A - Jeans Beast 
B - Loft Party 
Artwork - Julian Flemming and Manuel Klotz

Check on Bandcamp
___________
18/11/2018


D R O))) N E

___________
22/10/2018

Dead Hand - ST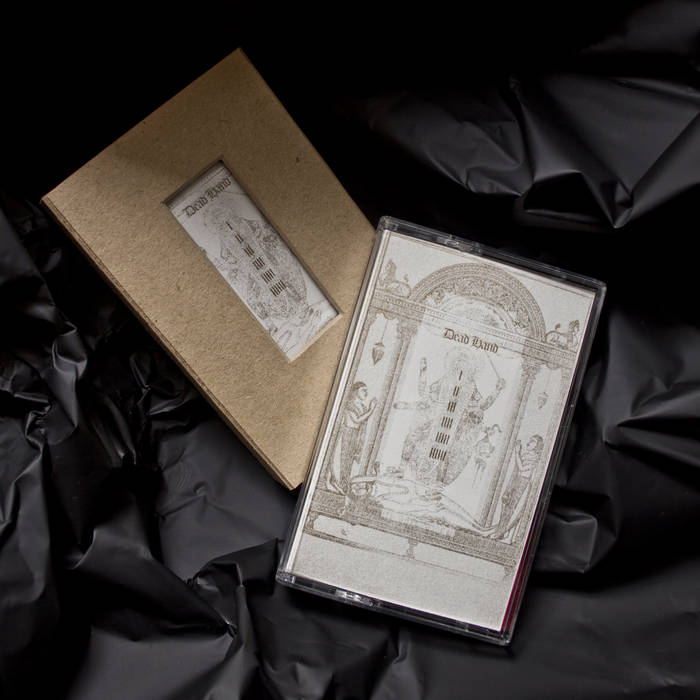 Ger./Engl.


Dead Hand war zwischen 2008 bis 2013 aktiv (mitunter als "Samurai Tod" und "Sunkissed") und weilt zurzeit in einem Dämmerschlaf - während die verschiedenen Mitglieder diverse andere Projekte verfolgen (mitunter Unru, Loft Party, BWL Studium etc.). Live war die Band vor allem wegen des beharrlichen Ignorierens von Übersteuerung und peinlichen Zwischenansagen bekannt und gefürchtet.

Das sind die letzten unveröffentlichten Aufnahmen, die irgendwann vor Jahren in Leipzig unter der Federführung von Alex aufgenommen wurden. Der Sound ist irgendwo zwischen frühen chaotischen Hardcore und Powerviolence der Marke Reversal of Man, Systral, Converge oder Spazz beeinflusst. Hier und da erkennt man jedoch auch die früheren musikalischen Beeinflussungen von "Euro-90er-Screamo" sowie vereinzelt Black Metal Elemente (Blastbeats und Dilettantismus). Gewalt, Misanthropie, Gotteslästerung und Drogenmissbrauch prägen die Texte und schreien gegen das rhythmische Brett an, welches von einem hektischen Riffritt gepeitscht wird.

Es ist ein wilder und chaotischer Nexus den Dead Hand beiwohnen. Nie war eine Band aus dem Harzvorland dunkler und angepisster. Die Kassette ist limitiert auf 20 Stück und kommt mit einem handgefertigten Slipcase sowie einem risographierten Cover daher.
_______________________________________________________

Dead Hand preached the metal between 2008 and 2013. The Sound of this german band is inspired by artists like Converge, Reversal of Man, Spazz or Systral. But you will not miss your lovely black metal blastbeats and skramz shouting with naive pseudo-intellectual lyrics. Alemania was never darker and pissed! Check this!

released October 22, 2018

Dead Hand is: Andrej, Hendrik, Manuel, Raul
Recording/Mixing: Alex
Artwork: Manuel Klotz




Check on Bandcamp
___________
01/04/2018
Archaic Whispers - Aut Nihil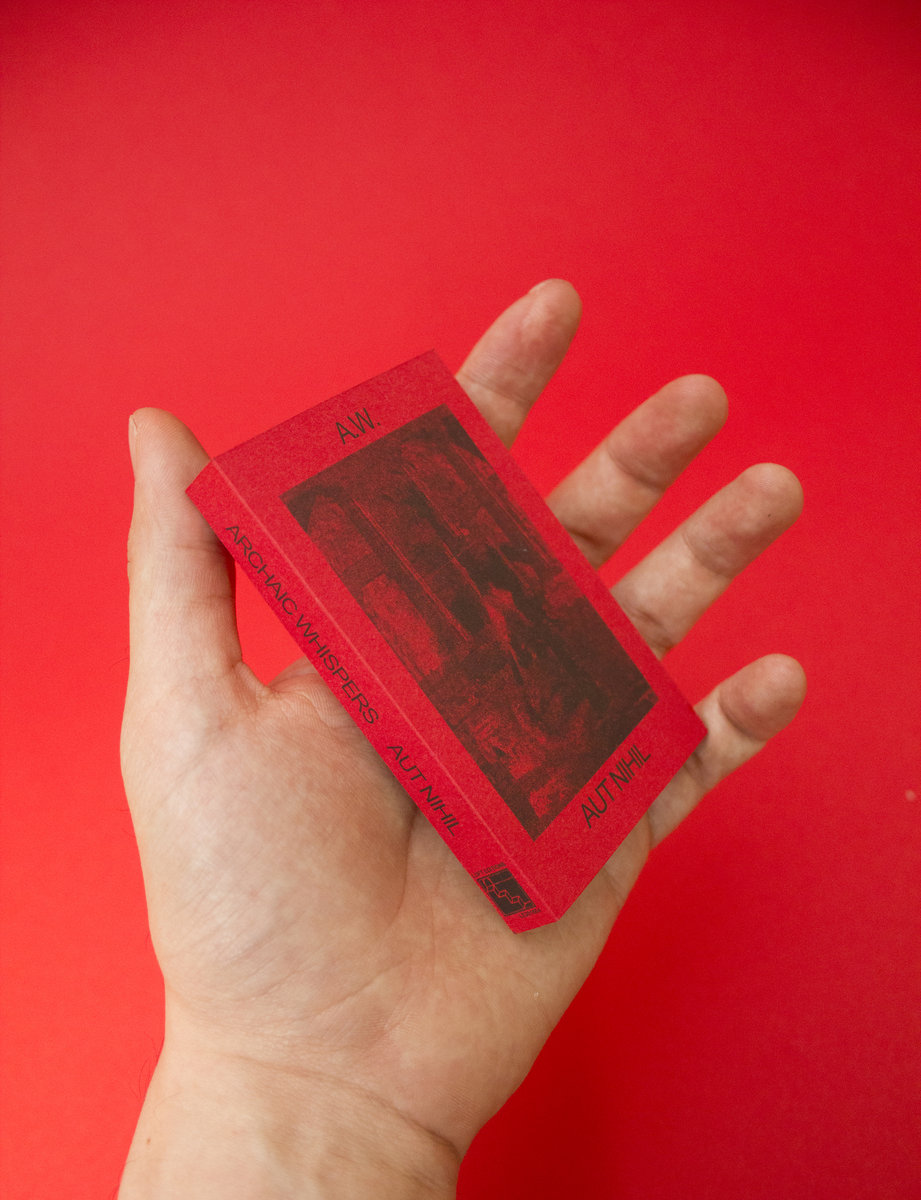 Engl.


Iam proud to drop the first tape release of soundartist Sebastian Pralle aka Archaic Whispers.
Cold and raw industrial/noise fueled experimental music. Sometimes more musique concrete,
sometimes more black metal influenced philosophical ambient soundscapes.
Recommended for fans of Maurizio Bianchi, Etat Brut, Ulver or Vivenza.

Also as cassette available. 

- Riso-printed slipcase on heavy cardboard 
- Hand-cuted, numbered and folded 
- Edition of just 20 cassettes




Check on Bandcamp.

___________
01/03/2018

Loft Party - Dust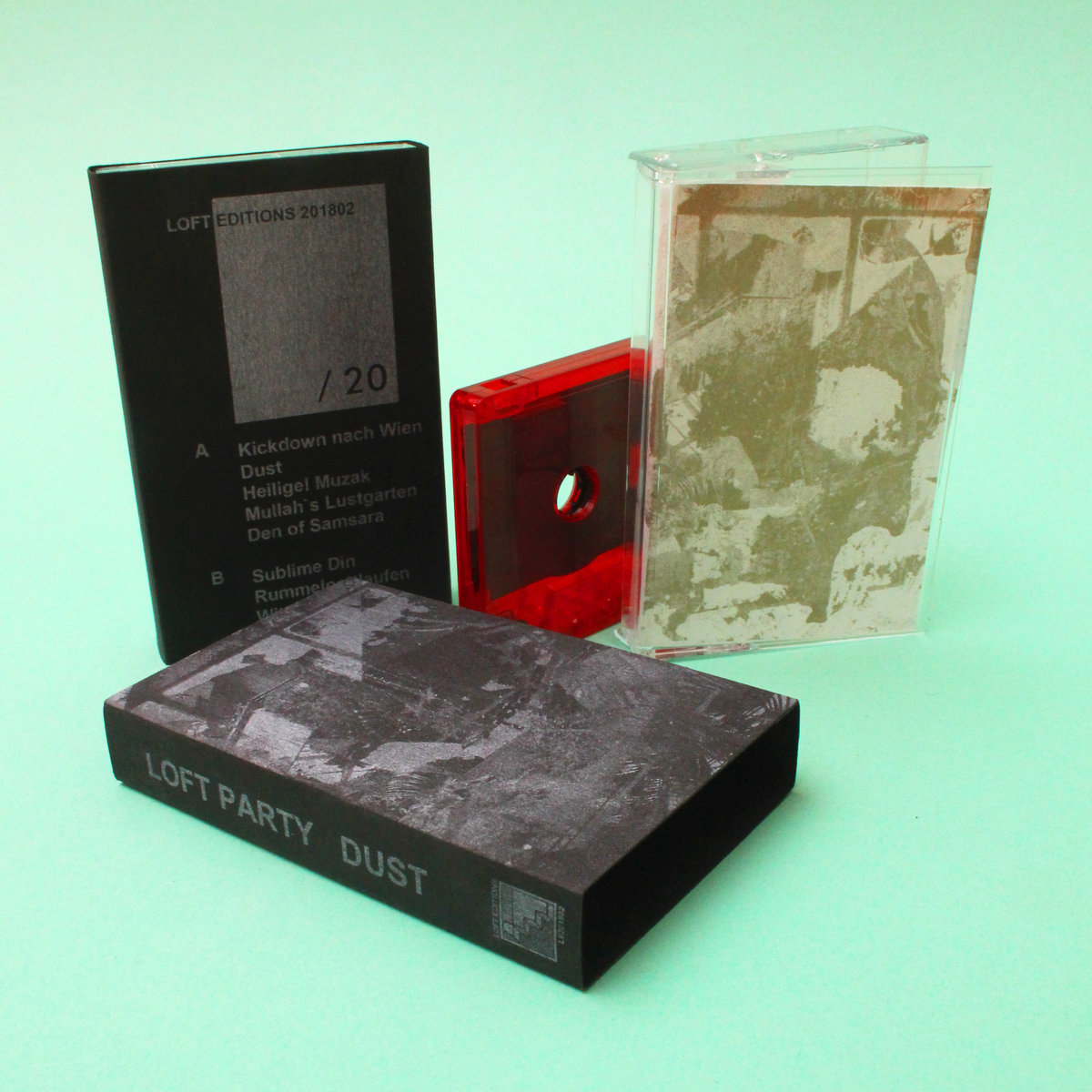 Engl.



Berlin based noise bungler Loft Party presents his first C-45 album. Harsh electro-acoustic noise sounds and wobbling drone waves crushes into an intense tinnitus worshiping adoration for your loft.
Pure no-mixing and mastering skills, just rough dilettantism for the diy noise-punx out there! Check it out! 

Also as cassette available. 

- Riso-printed JCard and slipcase on heavy cardboard 
- Hand-cuted, numbered and folded 
- Edition of just 20 C-45 cassettes 


Check on Bandcamp.
___________
04/01/2018

Loft Party + WEHE - 05 / 11 / 17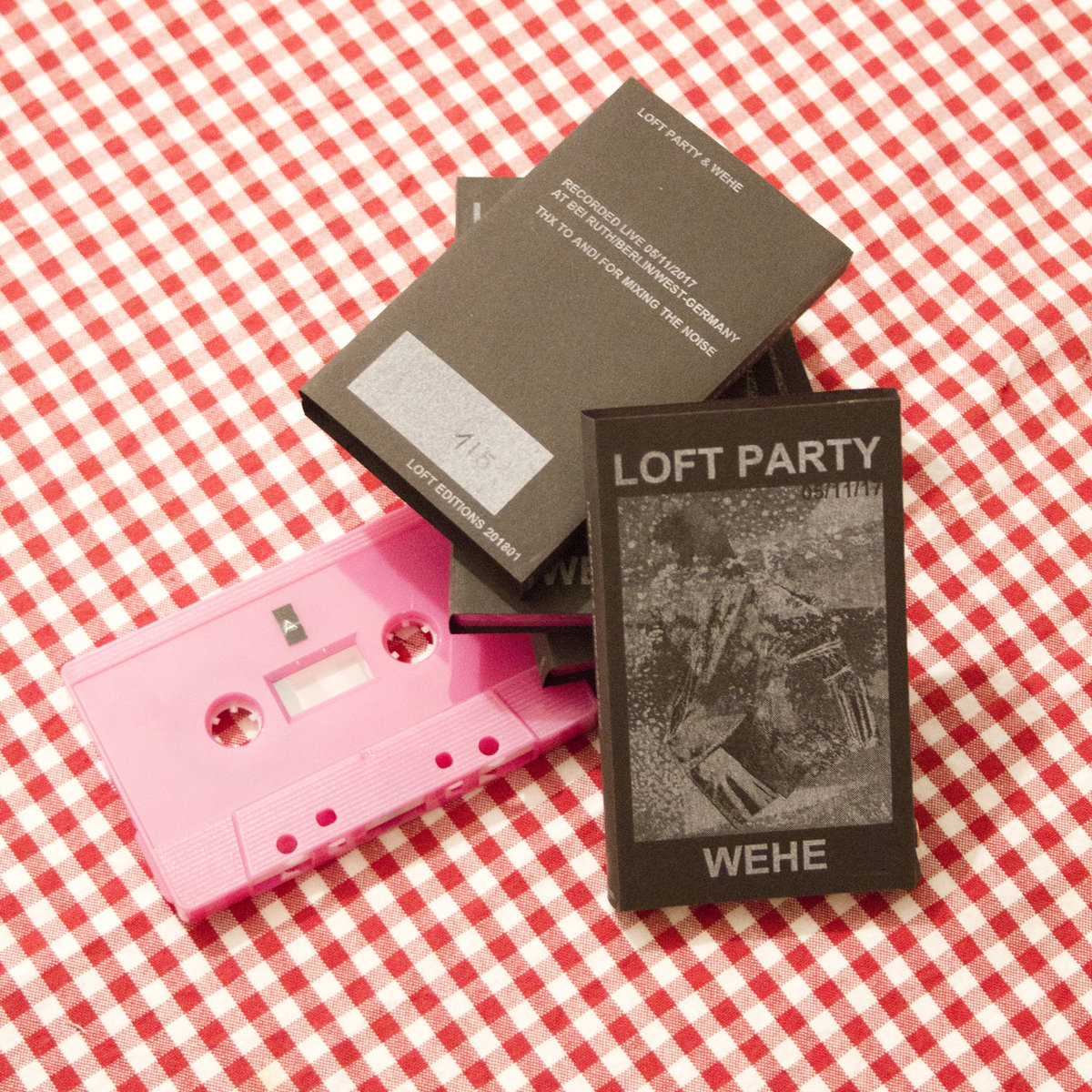 Engl.


Live noise session by Loft Party & Wehe, 05.11.2017 @ bei Ruth e.v. Berlin.

High-bias fero cassette tape with riso-printed cover. Only 5 copies available!



Check on Bandcamp

___________
20/2/2016

Occult Bellevue


Engl.


Occult noise, shoegaze, experimental band from Braunschweig, Germany.
I recorded the vocals, guitar, bass and drums.
Limited to 14 cassette copies.



You can chant the noise via digital release or audio cassette @ Econore. Order here


___________
9/11/2015
Manuel Klotz - Hohner PK250 midi / Loft Editions #2015001
Edition of 4 tapes, 6 crazy noise/soundart tracks, made with the legendary wedding music machine "Hohner PK250 midi". Recorded with iPhone4 @ Nexus catacombs, Braunschweig.
Risograph made inlay and booklet.


___________
02/11/2014

CMBCMW Records

Crazy virtual label for home recorded noise and avantgarde "music". Including early funny dilettante noise and electro stuff from me.
Look out for "Loft Party". Stick in your Oropax HERE
___________
01/11/2014

Mouldyard - Mouldyard

Ambient/Drone/Experimental project from 2012
feat. Antimo Sorgente, Martin Tornow and Manuel Klotz.

This realse contains a jamsession from 2012, hailing from "the Mouldyard Rehearsalrooms" in Braunschweig.

Published by Econore. Limited to 11 Copies. Order Here